Pay Per View
The next best thing to being at the big fight, is watching it on pay per view. Check out this month's line up of exciting pay per view events on Optimum TV.
Pay per view events can be found in HD on Channel 550 and in SD on channels 551 and 552. In addition, select events are available in español on Channel 553. A digital cable box or CableCARD is required to receive pay per view events. Customers with CableCARDs must call Customer Support to order pay per view. Prices and programming subject to change.
WWE:
CLASH OF CHAMPIONS
Sunday, September 15th
at 6:30 p.m. / $54.99





Available on: Ch. 550 in HD | Ch. 551 in SD | Ch. 553 in SD (en español)
It's the one night of the year when every championship is defended. Don't miss Becky Lynch, Seth Rollins, Kofi Kingston and all your favorite at WWE Clash of Champions, Sunday, September 15 at 6:30p, Live on Pay-Per-View.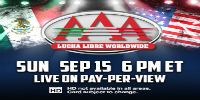 LUCHA LIBRE AAA
WRESTLING INVADES NYC
Sunday, September 15th
at 6:00 p.m. / $29.99





Available on: Ch. 552 in SD
An impressive roster of leading Mexican and internationally-known Luchadores will "Invade New York" when Lucha Libre AAA Worldwide, Mexico's premier professional wrestling organization, makes its debut in "The World's Most Famous Arena" by presenting one of their legendary spectacles on Sunday, September 15th, 2019.
FOX PPV:
SPENCE JR. VS PORTER
Sunday, September 28th
at 7:00 p.m. / $74.99





Available on: Ch. 550 in HD | Ch. 551 in SD
It"s champion vs champion as World Title holders clash! Errol "The Truth" Spence Jr. takes on ''Showtime'' Shawn Porter in a World Welterweight unification Title Bout live from Staples Center in Los Angeles. Plus, catch Super Middleweight Champion Anthony Dirrell defend his title against exciting rising star David Benavidez. Saturday, September 28 at 7pm, Live on Pay-Per-View!
BKFC: © 2018 Bare Knuckle Fighting Championships, LLC. AEW: © All Elite Wrestling, LLC. 2019. TOP RANK: © Copyright 2019. Top Rank Inc. All Rights Reserved. All Bouts and Times Subject to Change. SHO BOXING: ©2019 Showtime Networks Inc. All rights reserved. SHOWTIME PPV is a registered trademark of Showtime Networks Inc., a CBS Company. Bout card subject to change without notice. WWE: All WWE trademarks, logos and copyrights are the exclusive property of WWE and its subsidiaries. All other trademarks, logos and copyrights are the property of their respective owners. © 2019 WWE. All Rights Reserved. PREMIERE BOXING CHAMPIONS: © 2019 PBC on PPV, LLC. RING OF HONOR: © 2019 Ring of Honor Wrestling Entertainment, LLC. All Rights Reserved. NEW JAPAN: Copyright © New Japan Pro-Wrestling Co., Ltd. All rights reserved. IMPACT: IMPACT Wrestling is a subsidiary of Anthem Sports & Entertainment Corp., a leading global sports media company. Copyright © 2019 Anthem Wrestling Exhibitions, LLC. AAA LUCHA LIBRE: All copyrights, trademarks and registered characters are protected for AAA ® and licensed to AAA Brands, S.A. C. V. © and D.R. 2019. Cards subject to change. Customers without a digital cable box must call customer service to order Pay-Per-View® service. Pay-Per-View® events are available at an additional cost.