Pay Per View
The next best thing to being at the big fight, is watching it on pay per view. Check out this month's line up of exciting pay per view events on Optimum TV.
Pay per view events can be found in HD on Channel 550 and in SD on channels 551 and 552. In addition, select events are available in espaņol on Channel 553. A digital cable box or CableCARD is required to receive pay per view events. Customers with CableCARDs must call Customer Support to order pay per view. Prices and programming subject to change.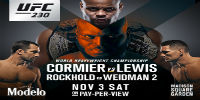 UFC 230:
CORMIER VS LEWIS
Saturday, November 3rd
at 9:00 p.m. ET / $64.99





Available on: Ch. 550 in HD | Ch. 551 in SD | Ch. 553 in SD (en espaņol)
The stars are out when UFC returns to Madison Square Garden, "The World's Most Famous Arena." At UFC 230, two-division champion Daniel Cormier defends his heavyweight title for the first time against an exciting Texas knockout artist, Derrick Lewis. Plus, former middleweight champion Chris Weidman returns to the Octagon to face Brazilian star Jacare Souza.