Pay Per View
The next best thing to being at the big fight, is watching it on pay per view. Check out this month's line up of exciting pay per view events on Optimum TV.
Pay per view events can be found in HD on Channel 550 and in SD on channels 551 and 552. In addition, select events are available in español on Channel 553. A digital cable box or CableCARD is required to receive pay per view events. Customers with CableCARDs must call Customer Support to order pay per view. Prices and programming subject to change.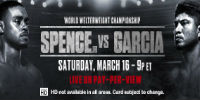 SPENCE JR. VS GARCIA
Saturday, March 16th
at 7:00 p.m. / $74.99





Available on: Ch. 550 in HD | Ch. 551 in SD
Two of the best pound-for-pound fighters on the planet put their perfect records on the line at AT&T Stadium. Catch Errol Spence, Jr as he takes on Mikey Garcia for the World Welterweight Championship. Both undefeated, after March 16th, one of them won't be.
UFC: ©2019 Zuffa, LLC. All rights reserved. Card subject to change. SHO BOXING: ©2019 Showtime Networks Inc. All rights reserved. SHOWTIME PPV is a registered trademark of Showtime Networks Inc., a CBS Company. Bout card subject to change without notice. WWE: All WWE trademarks, logos and copyrights are the exclusive property of WWE and its subsidiaries. All other trademarks, logos and copyrights are the property of their respective owners. © 2019 WWE. All Rights Reserved. PREMIERE BOXING CHAMPIONS: © 2019 PBC on PPV, LLC. Customers without a digital cable box must call customer service to order Pay-Per-View® service. Pay-Per-View® events are available at an additional cost.